TEAM
In the racing world for passion, we live the team as a place where we can continue to improve and give vent to our ambitions.
In GRT the enthusiasm and courage of each team member are the tools that allow us to do a great teamwork: this is the key for achieving results and goals.
FILIPPO CONTI
Team Manager
MIRKO GIANSANTI

Sporting Director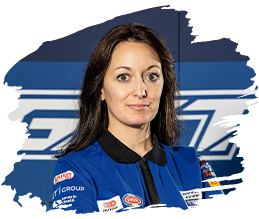 SOL ALVAREZ
Team Coordinator
PIERPAOLO FRANCESCHINI
Press Officer
Select Remy or Dominique to find out their crews!
DAMIANO EVANGELISTI
Crew Chief
BRUNO BAILLY
Application Engineer
MASSIMO NERI
Application Engineer
SIMON DEVEZE
Chief Mechanic
DANILO ZANITELLI
Chief Mechanic
ROBERTO LA CORTE
Mechanic Assistant
SIMONE FALCINI
Mechanic Assistant
LUCA DATTILO
Tyre & Fuel Technician
FRANCESCO DUGNANI
Tyre & Fuel Technician